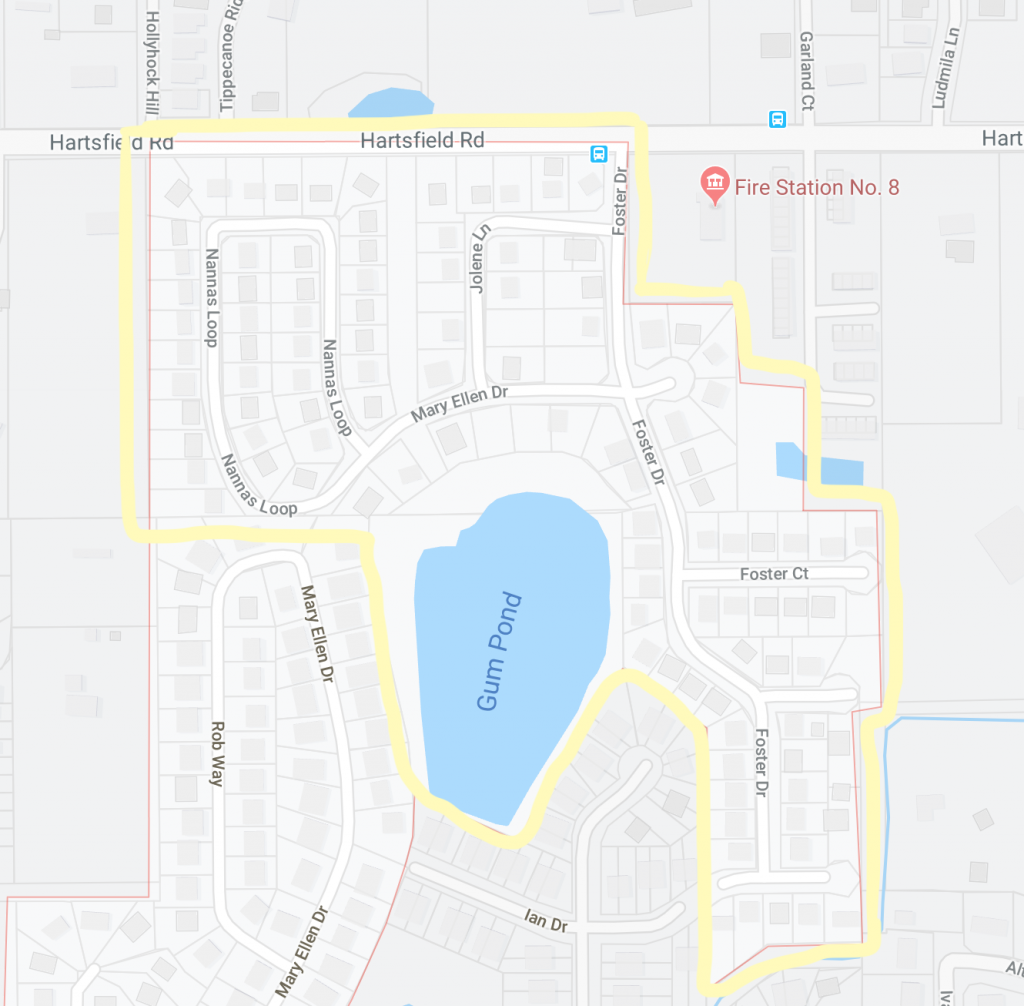 Mission Statement:
To be the best working class neighborhood in Tallahassee and preserve the spirit of the American Dream for all who call Hartsfield Village home.
We are a small, 114 member homeowner, multi-cultural and multi-racial working class neighborhood located in the Northwest section of Tallahassee, Florida. We began as an old pecan plantation and many of those trees still exist in the area. We were established in 1984 and for many of us, our neighborhood represents the American Dream. Our homes mean a lot to us and we are proud to be called homeowners!
Each spring, we enjoy an abundance of color from native plants such as azaleas, Japanese magnolias, and cherry blossoms, dogwoods, and flowering pear trees. In the summer, our streets turn into beautiful canopy roads, which provide just the right amount of shade to walk our beloved pets, visit with neighbors, and work in our yards. Don't forget to take notice of our Crepe Myrtles and Roses! By Fall, we enjoy our second burst of color as the various leaf colors compete to be seen. The maple trees turn gold, orange, and red while our various water oaks produce an abundance of acorns for the squirrels. Throughout the year, Hidden Lake provides the opportunity for many homeowners to sit on their back porches and decks to watch the natural wildlife in the area. Canadian Geese can often be seen floating and walking through the neighborhood. Though we are surrounded by college student housing, we are one of the few neighborhoods to continue to enjoy old neighborhood lifestyle. Here, neighbors respectfully acknowledge the family next door that needs to get little ones settled early in the night for a successful day at school the next day, or the night-shift worker who needs relatively quiet mornings to rest after working till the wee hours of the morning, and the needs of students that choose to live here because it reminded them of home and cherish the fact that here the pace is much slower than on campus or a student housing complex.
Sometimes it is easy to forget that we are close local businesses such as downtown Tallahassee, Home Depot, Lowes, Wal-Mart, Tallahassee Mall, and quaint towns like Quincy and Havana! We also enjoy the fact that we are surrounded by a number of local parks, trails, and natural wonders like the famous Lake Jackson. (For unsolved reasons, this clay bottom lake drains itself completely. This happened a few years ago and it is slowly being filled again!)
We are also close to many grade schools (Astoria Park Elementary, Bellevue Middle School, and Godby High). Higher schools of learning such as Florida State University, Florida A&M University, Tallahassee Community College is in within a 15 minute drive or less. Finally, bonus amenities like the Tallahassee Regional Airport is just minutes away and Fire Station #7 is located at the entrance of our neighborhood.
Our neighborhood is privately-owned by all of the property owners. As such, we are responsible for the upkeep of our common areas. The Hartsfield Village Home Owner Association (HVHOA) is very active in maintaining the neighborhood as a safe and friendly place where everyone's rights are respected and looked out for. All property owners are required to pay annual dues for the upkeep of roads, signage, drainage, and street lights, as well as other needs that serve us all.
Whether you are a visitor or resident, we hope you enjoy this special place we call home and please let us know if we can do anything to make it better.
Accomplishments:
Restored the Front Entrance.
Help to established a Neighborhood Crime Watch which is run by the homeowners
Resurfaced the HOA privately owned streets.
Won the CONA Award